Model 102
Length:
27"
Width:
21"
Height:
25"
Weight:
8 Lbs
Backflow Dimensions:
RP 19"L x 23"H
PVB 14"L x 24"H
Model 103
Length:
56"
Width:
42"
Height:
30"
Weight:
28 Lbs
Backflow Dimensions:
RP 42"L x 30"H;
PVB 34"L x 34"H
Model 104
Length:
60"
Width:
48"
Height:
41"
Weight:
39 Lbs
Backflow Dimensions:
RP 42"L x 30"H
PVB 34"L x 34"H
Model 109
Length:
30"
Width:
23"
Height
18"
Weight:
4 Lbs
Backflow Dimensions:
RP 16"L x 12"H;
PVB 12"L x 14"H
Model 110
Length:
39"
Width:
21"
Height
21"
Weight:
10 Lbs
Backflow Dimensions:
RP26"L x 14"H;
PVB 16"L x 20"H
Model 116
Length:
48"
Width:
20"
Height
30"
Weight:
21 Lbs
Covers Backflow Assemblies up to
2" in Diameter, 36" Long and 30"High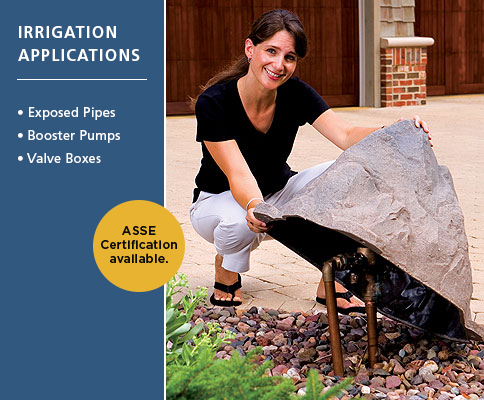 When backflow systems are installed above grade, the exposed pipes, booster pumps and valve boxes can really detract from the landscaping.
That's why several Dekorra® rock enclosures are available with full ASSE 1060 certification, the standard for outdoor enclosures for backflow prevention assemblies. Please contact us for details or click below to download a PDF with more information on our rock enclosures that are ASSE certified.

Keep It Warm: See our complete line of Insulation Products.
A Note About Measurement: Length and width measurements for each product are taken at the base. The height measurement is the highest point of each rock. Because the shapes are irregular, these measurements are guides for how large an item will fit under the enclosure. If you have any questions about whether an item will work with a particular rock, please contact us and we will assist you.