Model 102
Length:
27"
Width:
21"
Height
25"
Weight:
8 Lbs
Telephone and cable boxes.
Model 103
Length:
56"
Width:
42"
Height
30"
Weight:
28 Lbs
Satellite dishes and cable boxes
Model 104
Length:
60"
Width:
48"
Height
41"
Weight:
39 Lbs
Pool/Pond filters and pumps
Model 106
Length:
19"
Width:
14"
Height
12"
Weight:
2.5 Lbs
Electrical Outlets
Model 109
Length:
30"
Width:
23"
Height
18"
Weight:
4 Lbs
Lighting transformers
Model 110
Length:
39"
Width:
21"
Height
21"
Weight:
10 Lbs
Pond pumps
Model 113
Length:
18"
Width:
17"
Height
34"
Weight:
8 Lbs
Utility Pedestals up to 33" tall
NEW! Model 117
Length:
42"
Width:
24"
Height
21"
Weight:
14 Lbs
Horizontal cable boxes, External Pumps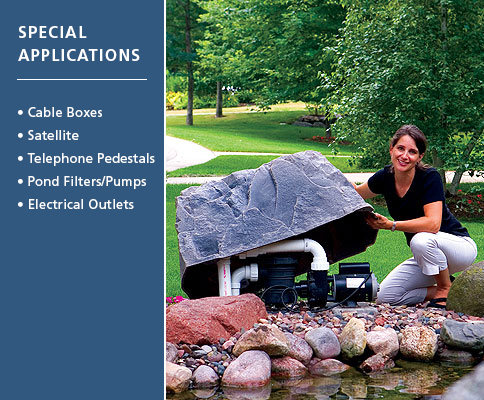 Dekorra® Mock Rock™ artificial rock enclosures perfectly conceal a variety of items in virtually any landscape—commercial or residential. From large items to small, our big selection of sizes and shapes means there's an enclosure that's exactly right for almost any application. Need to cover a large utility pedestal? Check out our model 113. Don't settle for less: choose the industry's best appearance, tough and durable RealRock™ material, and a long-term solution that works.
A Note About Measurement: Length and width measurements for each product are taken at the base. The height measurement is the highest point of each rock. Because the shapes are irregular, these measurements are guides for how large an item will fit under the enclosure. If you have any questions about whether an item will work with a particular rock, please contact us and we will assist you.