Model 101
Length:
31"
Width:
26"
Height
21"
Weight:
8 Lbs
Wells up to 18" tall
Model 102
Length:
27"
Width:
21"
Height
25"
Weight:
8 Lbs
Wells up to 24" tall
Model 103
Length:
56"
Width:
42"
Height
30"
Weight:
28 Lbs
Constant Pressure Systems
Model 104
Length:
60"
Width:
48"
Height
41"
Weight:
39 Lbs
Pressure Tanks up to 38" tall
Model 109
Length:
30"
Width:
23"
Height
18"
Weight:
4 Lbs
Wells up to 12" tall
NEW! Model 114
Length:
63"
Width:
48"
Height
61"
Weight:
70 Lbs
Pressure Tanks up to 60" tall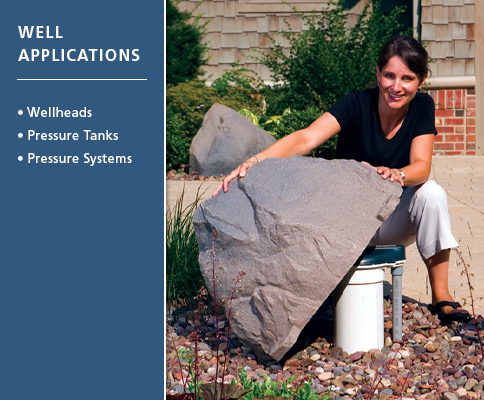 With the large investments homeowners make in landscaping, precise attention to detail is always part of the job. But what about that wellhead that sticks up right in the middle of the flower garden?
With a lightweight, extremely durable and incredibly realistic rock enclosure, an exposed pipe will blend right in with your existing landscaping. They quickly turn an obvious eyesore into a beautiful finished appearance.
Installation is simple— just place the Dekorra® rock enclosure over a wellhead or pressure tank and secure it with the provided ground stakes. Then add decorative stone, mulch and plants—the results are remarkable.
Keep It Warm: See our complete line of Insulation Products.
A Note About Measurement: Length and width measurements for each product are taken at the base. The height measurement is the highest point of each rock. Because the shapes are irregular, these measurements are guides for how large an item will fit under the enclosure. If you have any questions about whether an item will work with a particular rock, please contact us and we will assist you.